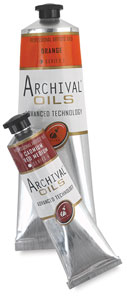 I recently started using a new brand of Oil Paints called Chroma Archival Oils. I like these paints so much that I thought I would do a short review post.  I started using these oils after hearing about them in a home study course called Mastering Color by Richard Robinson.
Chroma Archival Oils are a fairly new addition to the oil painting industry. They first gained popularity in Australia and were later introduced to the United States in the early 1990's. Since that time, they are becoming more and more popular so I just had to see what this craze was all about.
As much as I love oil paints, they do have a big flaw. They tend to become rather brittle and crack over time. This is because oil paints become less flexible as they dry. To overcome this flaw, Archival Oils introduced a new kind of oil that has been modified with a synthetic material making the paint more flexible.
When I read about these paints, I automatically thought they couldn't possibly have the same look and feel as ordinary oil paints, but honestly, they really do. They dry and handle just like any other oil paint.
If you do decide to give these paints a try be sure to only use Archival Brand Mediums. According to their website, you cannot use other brands with Archival oils as the Archival Mediums are specially made to work with their oils.
As far as mixing Archival oils with other brands of oil paint, I could not find any information on this unfortunately. I did mix some of mine with another brand and they appear to work just fine, but I have no idea of the long term effects of this mixture.
If anyone has any further information about this, please leave your comment in the box below. Thanks!