About Charles
My name is Charles Ott and I am a self-taught architectural illustrator from Pittsburgh, Pennsylvania and the creator of Steel City Artist Illustrations. I specialize in creating very detailed hand-drawn pen & ink illustrations of prominent architectural landmarks. My work is featured worldwide in art galleries, business, colleges, gift shops, restaurants and even the White House.
The Interview
Q: What medium or mediums do you work with?
About Sharon
Q: What medium or mediums do you work with?
A: My paintings now are all digital. I use a Wacom Intuos 4 tablet to paint digitally in Photoshop. I still enjoy traditional painting however I find the digital process so much more appealing because of the various features that are available with today's technology.
Q: How long have you been an artist? How did you get started?
A: I have always had an interest in art however it took me a long time to find the exact path that I wanted to follow.
Your Name: k. Madison Moore
Location: Mount Pocono Pennsylvania
Title of Artwork: Romancing Picasso
Dimensions of Artwork: 16″ x 20″
Medium: Oils
Support: Custom Canvas Panel
Describe this Piece Painting with The Masters – Romancing Picasso – Art within Art Series
Blog: http://kmadisonmoore.blogspot.com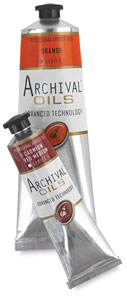 I recently started using a new brand of Oil Paints called Chroma Archival Oils. I like these paints so much that I thought I would do a short review post.  I started using these oils after hearing about them in a home study course called Mastering Color by Richard Robinson.
Chroma Archival Oils are a fairly new addition to the oil painting industry. They first gained popularity in Australia and were later introduced to the United States in the early 1990′s. Since that time, they are becoming more and more popular so I just had to see what this craze was all about.
As much as I love oil paints, they do have a big flaw. They tend to become rather brittle and crack over time. This is because oil paints become less flexible as they dry. To overcome this flaw, Archival Oils introduced a new kind of oil that has been modified with a synthetic material making the paint more flexible.
Artist Statement/Bio
I don't know why I have this all encompassing desire to paint wildlife….to be a wildlife artist…. perhaps I will never know, but when I am painting, then nothing else exists. I am right back at the scene where I first saw my subject. Back with the lions of the dry savannah of Savuti and the elephants in the lush vegetation of the Okavango Delta…… It's almost as if time stands still as I relive my memories through painting…. I strive to paint wildlife as accurately as I can, so where possible I like to see the animals in their natural environment, and this has, of course, lead to some very exciting journeys and experiences.
Q: What medium or mediums do you work with?
A: I work in oils – but I use the fast drying kind – Alkyd Oils.
Artist Statement
"How dull might the world be without clouds and mountains and trees? How utterly drab without people, animals, lakes and streams? And how lifeless the walls that surround us without paintings of such things to take their places when we can't immediately go and see them?
"I am compelled to paint such things; inspiring things that evoke memories or spark the imagination keeping the insipid well at bay…
"I have been drawing and painting since my early childhood. My family has always been supportive of my art so I was encouraged to draw and paint growing up. One of my favorite things that I was privileged to do was to go to painting lessons once a week after school. I was also privileged to grow up in one of the most beautiful and diverse areas in the world – the Reno-Tahoe area. I grew up out in the sticks and I think that has had a definite influence on the subject matter I most often choose to paint – Sierra landscapes.
Artist Statement
My work fits into two very different and unrelated categories: realism and abstract. Each style allows me to challenge different parts of my personality. Drawing realistically indulges the side of me that loves detail and is a perfectionist. It challenges me technically and I am always pushing to create more accurate drawings. The abstract works reflect my interest in color and form. I am able to work loosely and fluidly, reacting to the painting as I go. It is sometimes a relief to shift from the tight discipline of realistic drawing to this type of work, but it can be equally relieving to go from these open-ended paintings to getting lost in the details of a drawing.
Q: What medium or mediums do you work with?
A: I love working with traditional drawing media: graphite and charcoal. Graphite is great for tight, accurate drawing, but nothing beats charcoal for loose, gestural sketching!
Artist Statement
The focus of my work is synonymously related to nature and landscape. It is an investigation of nature, its forms, its sublimate captivation and the paradigm of how we align our position, perceptions and reactions to them.
Predominantly my subjects derive from arboreal environments, which I record with photography, sketch making, and through the internalisation of personal experience. Hence, when we find ourselves in an environment where the realisation of aloneness becomes internalised, there can be various responses. Angst, vulnerability, fear, adrenaline, but paradoxically, these feelings can also be interpreted as vision, freedom, liberation, and excitement. They can be either comforting or discomforting and this to me is a reflection of our individuality…
Q: What medium or mediums do you work with?
About Sandy Sandy
Since 1996, Sandy Sandy has been a professional fine artist and has devoted her career to painting full time. After a divorce, she left behind a thriving advertising, illustration and sign company which she owned and operated for seventeen years. Sandy currently works in her spacious art studio from her NJ Pine Barrens home. Here she is inspired by the wildlife that visits her yard daily. A strong connection with animals and nature is evident in her choice of subjects. Her philosophy of "spirit" is woven into her work, where thousands of watercolors have given way to her flowing expressionist style.
Collectors of Sandy's original paintings can be found throughout Canada and the US. Commissions are always welcomed to create specific works for individuals and organizations such as The NJ Symphony Orchestra. She holds a Bachelor of Fine Arts Degree in Illustration from Moore College of Art and Design and attended The Art Institute in Philadelphia. Having studied watercolor with many nationally known watercolor masters including those from the E.A.Whitney, Brandywine and New Hope Schools has given her roots that are strong in the American Art Tradition. Sandy currently provides uplifting, motivational and instructional content in her various free online communities. She also is available for speaking engagements, demonstrations, workshops and classes.
Sandy's Website: http://www.sandysandy.com/ Read more