Golden Fluid Acrylics – Presented by Dick Blick Art Materials
The fluid acrylics line from Golden are a highly intense and permanent paint with the consistency similar to that of heavy cream.  The pigment strength used in these paints is very similar to the pigment load that is used to make Golden's Heavy Body Acrylics. The only real difference is the consistency.  These paints are produced using lightfast pigments and not dyes and contain no fillers or extenders.
You  may be thinking why bother with fluid acrylics?  I can just dilute my regular acrylics with water and produce the same kind of paint.  Actually, this is not recommended because your colors will lose intensity when watered down this way.
These paints are manufactured with the highest possible pigment loads.  This creates paints that have incredible paint dispersion qualities, amazing tinting strength, durability, flexibility and excellent adhesion. The unique consistency of these paints allows for even brush load and long uniform brush strokes.
Chroma Atelier Interactive Acrylic Paint is a professional, high quality acrylic paint available in 75 colors.  These paints have a wonderful buttery consistency and dry to a rich satin finish with little to no color shift.
As you know, acrylic paints do have their drawbacks.  They dry quickly, colors change value when dry and you can't rework an area after it has already dried.   Well, thanks to Chroma Atelier Interactive Acrylic Paint, this has all changed.  The properties of this acrylic paint are somewhat magical.  The folks over at Chroma, have created a paint that stays workable for longer periods of time and maintains its color after drying.
These paints do dry , but they dry differently than traditional acrylics.  Normal acrylics dry quickly and form a skin. Atelier Interactive Acrylic Paint goes through what is known as a "Curing" cycle. It will go from a wet workable phase, to a tacky stage, then to a stage known as "touch dry".  The "tacky" stage is the interactive stage where these paints really begin to shine. You will recognize this "tacky" stage when your brush begins to drag and is no longer sliding smoothly on the canvas. At this point, you can either wet your brush, or use a fine mist sprayer to wet the paint to bring it back to a workable state.
Now lets say that you leave your painting to dry over night, or even days later and you want to rework a certain area.  For this you will need to use a special medium called "Unlocking Formula"…
Sennelier Extra Fine Watercolors have been around for over 100 years and are still a favorite amongst artists of today.  If you were to go back in time , you would have seen Artists like Cezanne, Gauguin, Monet and Picasso using these wonderful paints.
Sennelier Extra Fine Watercolors come in a wide variety of colors, 80 to be exact and are extremely vibrant.  These include colors that have long since been discontinued by other manufacturers.  Sennelier uses the finest pigments to make their watercolors.  Their pigments are first soaked in water for 24 hours which allows the pigment to fuse with the binder and to increase their brilliance.  They use Gum Arabic from Africa and Honey from the French Alps as a binder. Honey is used because of its natural tendency to draw moisture from the air.  This in turn keeps the paint moist for much longer on your palette.
These watercolors are available in tubes or in half pan sets.
Sennelier also makes a masking fluid to use along with your watercolors.  It is unlike any other masking fluid on the market. It will work whether it is brand new or if it has been sitting around unused for years.  It is tinted with a light green color so that it is easy to see when applied.  The tint will not stain your paper.  When your painting is completely dry, the masking fluid can be easily removed by using just your finger.
Sennelier Soft Pastels were first created way back in 1887 by Gustave Sennelier for Edgar Degas.  In France, it is the only pastels that has the Kings Crown of approval on its label.  They are made from 100% pure pigment that is bound with gum arabic.
They do not contain any, which means these colors are more vibrant than other pastel brands on the market today.  These beautiful pastels are lightfast and their colors will remain true for centuries to come.
They come in both full stick and half stick size. The full sticks are air dried and individually hand wrapped.  The half sticks are a little shorter and thicker than the full sticks and are not wrapped.  The full stick soft pastels are available in a wide range of colors, 525 to be exact, which includes 24 iridescent colors. They are sold individually or in sets.
The half sticks are available in sets that range in size from 20 to 120 different colors.
In the following video, Elaine Salazar, president of Ampersand Art Supply discusses a product by Ampersand known as "Aquaboard".  Aquaboard is an acid free surface that is perfect for use with Water based media like watercolors and gouache.  It is similar to cold pressed watercolor paper but there are some differences.  The colors on the Aquaboard will appear much more vibrant than on paper because the paint will not absorb into the surface like it does on the paper. Aquaboard will not tear, warp or buckle like paper can.  It is also much easier to lay colors one on top of the other.  It is also much easier to lift color off the aquaboard surface exposing the surface underneath.  The surface of the board can also be scrubbed without risk of damage to the surface.  Lastly, the final painting can be framed without using glass…  Learn more about this amazing product by watching the video presentation below.
A big thanks to both BLICK ART MATERIALS and Ampersand for providing this free presentation.  If you would like to learn more about Ampersand Aquaboard and purchase it online from Blick Art Materials, see immediately below.
Prismacolor is a popular brand of professional artist supplies offering a variety of products including colored pencils, markers, pastels, charcoal and graphite. In this post, the folks over at Dick Blick will be discussing the popular colored pencil products that Prismacolor offers: Colored Pencils, Verithin and Art Stix.
The Art Stix are available in 48 colors.  The Colored Pencils are available in 132 colors. The Verithin Pencils are available in 32 colors.  The great advantage to these products is the consitency.  Meaning, an Indigo color in the Art Stix line is the same as an Indigo in the Verithin line.
The Art Stix is essentially a woodless colored pencil. It can be used straight from the box without sharpening. It has the same beautiful consistency as the Colored Pencils. You can produce a variety of different marks with the Art Stix by utilizing the various edges and points. Thin lines, thick lines, delicate or bold are all possible.  They are also great when producing large works of art as it is easier to cover larger areas.
The Verithin Pencil is an artist quality hard formulation. This means it will hold a nice sharp point and is excellent for fine lines and detailed work. These would be an ideal pencil if you are a Wildlife Artist  for instance and need to draw convincing fur and hair…
Winsor & Newton Artist's Watercolors have been around since 1832 and since that time they have been producing some of the finest watercolor paint known to man.  Winsor & Newton currently offers 96 beautiful colors in their line and a lot of these are single pigment colors, and with single pigment colors, you get brighter and cleaner mixes.  Winsor & Newton Artists' Watercolors are also slightly resistant to re-wetting.  This makes it easier to lay washes and glazes on top of one another without your colors getting muddied.
In this video, the folks over at Dick Blick Art Materials discuss the differences between the Winsor & Newton Artist's Watercolor that is available in both tubes and pans. There is most certainly a difference and this video will help you decide which kind of watercolor paint is best suited for your particular watercolor painting needs.
Both the pans and tubes are professional grade paints. Both have both pigment and the gum arabic binder but there are some differences.
As we all know, acrylic paint dries very quickly and there are times when we would prefer the paint to remain workable for longer periods of time. You could always switch to oil paints, but for those of us who love acrylic paints, this is not an option.
Acrylic paint starts to dry and form that annoying "skin" in roughly 10 to 20 minutes. This can be rather frustrating but luckily there are mediums and additives that we can add to acrylic paints to slow down their drying time and make for a much more enjoyable painting experience.
Watch the video below to learn more about these mediums and additives by Liquitex that you can conveniently purchase online from Blick Art Materials by following the links below.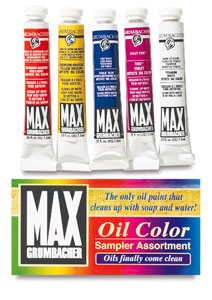 Grumbacher Max oil paints are a water miscible (also known as "water soluble" or "water mixable") paint invented in 1983, that were the first water miscible oil paints sold on the market.  It is hard to believe that any kind of oil paint could be mixed with water.  It seems to defy physics and go against that popular saying "Water and oil don't mix".  But in this case, they really do.  I can attest to this claim as I have personally tried Grumbacher Max oil paints and they really do live up to their reputation.
These paints can be mixed and applied just like traditional oil paints but with one huge advantage:  They can be removed from brushes with ordinary soap and water.  This is such a huge breakthrough for those of us who are unable to work with harsh solvents like turpentine.
There are other manufacturers that produce water soluble oil paints, but in my opinion, they don't have the same quality and similarity to traditional oils, that Grumbacher does.
In the following video, Ladd Forsline with Colorfin LLC demonstrates how to work with the wonderful pastels "PanPastel". These are not your ordinary pastels folks.  Instead of coming in the usual stick form, they are made in little pan like containers and applied with tools called "Sofft Tools". Its a very unique and interesting way to work with pastels.  The following video will demonstrate various tips, techniques and applications of this product .
One of the key advantages of working with PanPastels as opposed to stick pastels, is that you can block in large areas of color very quickly using the Sofft Tools, which Ladd will demonstrate.
Another great advantage of these pastels is that they are loaded with color.  Unlike regular pastels, which take multiple layers to cover the support, PanPastels can cover quickly with a very thin layer, making these pastels more economical.