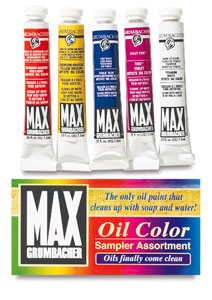 Grumbacher Max oil paints are a water miscible (also known as "water soluble" or "water mixable") paint invented in 1983, that were the first water miscible oil paints sold on the market.  It is hard to believe that any kind of oil paint could be mixed with water.  It seems to defy physics and go against that popular saying "Water and oil don't mix".  But in this case, they really do.  I can attest to this claim as I have personally tried Grumbacher Max oil paints and they really do live up to their reputation.
These paints can be mixed and applied just like traditional oil paints but with one huge advantage:  They can be removed from brushes with ordinary soap and water.  This is such a huge breakthrough for those of us who are unable to work with harsh solvents like turpentine.
There are other manufacturers that produce water soluble oil paints, but in my opinion, they don't have the same quality and similarity to traditional oils, that Grumbacher does.
There are several things you should keep in mind when working with Grumbacher Max paints:
It is recommended that you do not use natural bristle brushes when working with Max
Max can be mixed with traditional oils, but you must keep the mixture at 70% Max & 30% Traditional oils. Anything more than this will change the chemical makeup of the paint and it will no longer be water soluble.
Do not use water to thin Grumbacher Max paints. Max paints are made to break down with water, which is why they clean so nicely, but if you use water to thin your paint, it will break down on your canvas. Use an appropriate medium for thinning your paint instead.
Check out the video below from Dick Blick for more information on this line of paints.
Purchase Grumbacher Max Oil Paints Online
I hope this post got you excited about trying out these paints.  I have provided a link to where you can purchase these paints online directly from Dick Blick Art Materials at a fantastic price.